---
MEET THE V-SERIES BLACKWING PIT CREW
---
V-Series Blackwing vehicles are the pinnacle of Cadillac performance, design and technology. Both are feats of engineering and craftsmanship—from the near-perfect weight distribution and nimble dynamics of the CT4-V Blackwing to the hand-built 6.2L Supercharged V8 engine in the CT5-V Blackwing. Each is a work of art.
As any race car driver knows, the road to victory requires the right pit crew. Join Cadillac's own racing champion Felipe Nasr as he takes you behind the scenes with the V-Series Blackwing Pit Crew, the minds behind the machines. Hear exclusive details on both ultra-high-performance sedans through the lens of a professional racer with a keen taste for luxury.
---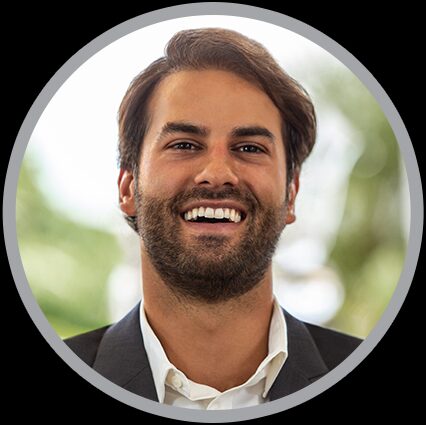 ---
---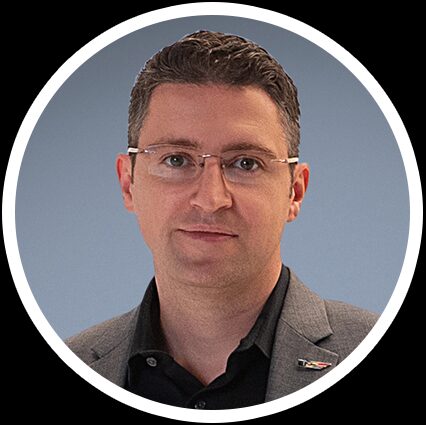 PERFORMANCE VARIANT MANAGER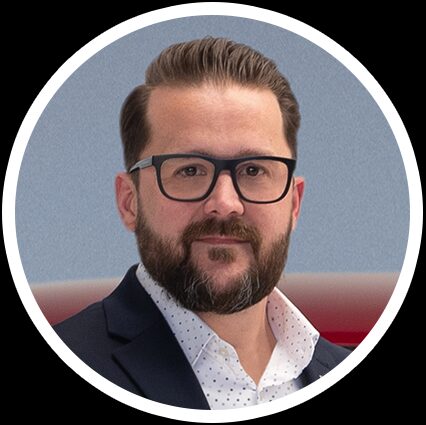 ---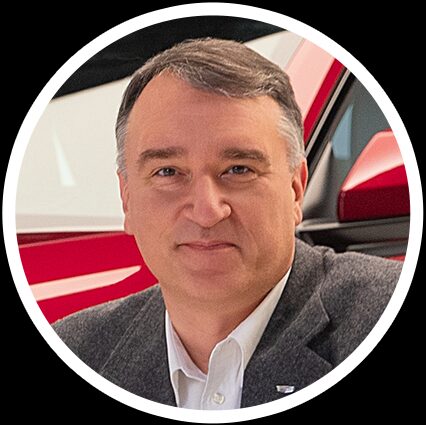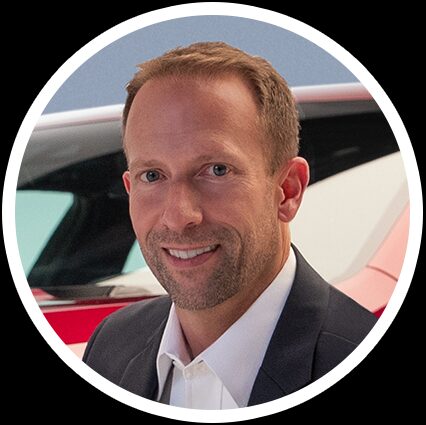 LEAD DEVELOPMENT ENGINEER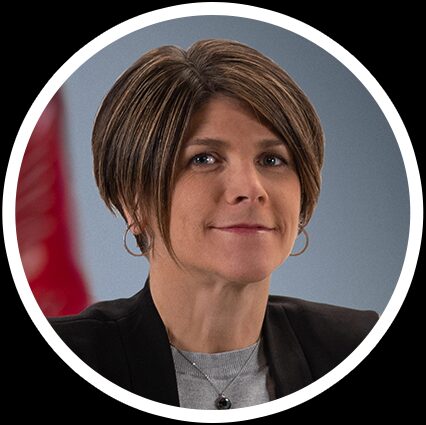 CT4-V BLACKWING
SMALLER & NIMBLER

---
3.6L

CADILLAC EXCLUSIVE
TWIN-TURBO V6

---
6-SPEED

MANUAL
(AVAIL. 10-SPEED AUTOMATIC)


---

---

---

---
---
---
Fastest, most powerful and most track-capable Cadillac ever in its class


Highest aero downforce Cadillac ever†


---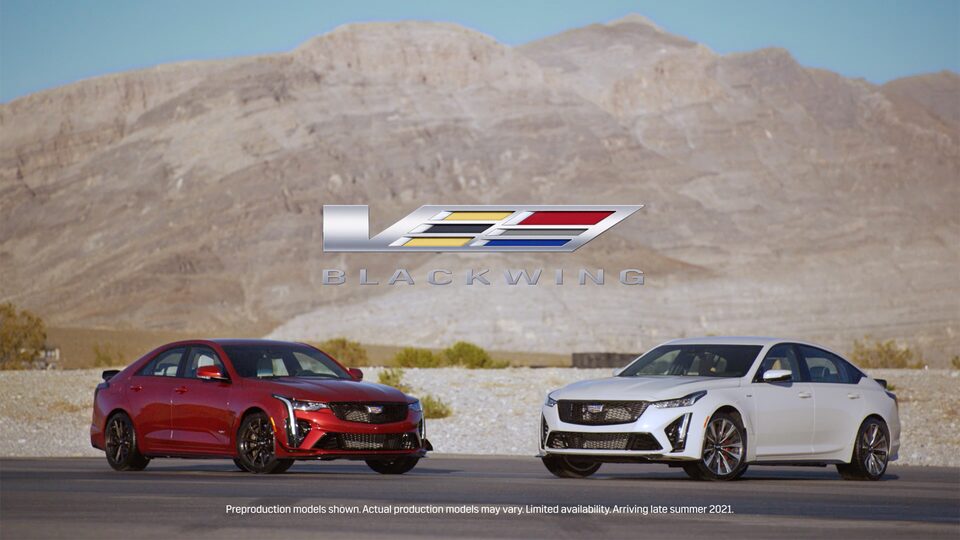 ---
Most powerful Cadillac ever within its class
Engine exclusive to CT4-V Blackwing
Responsive twin, low inertia titanium-aluminide turbine wheels
---
---
ARTFULLY ENGINEERED IN FORM, FUNCTION AND FEELING

---
Yes, these are track-capable vehicles—but they're also Cadillacs. Designing them meant establishing a signature V-Series Blackwing look authentic to Cadillac, while incorporating aerodynamic components wherever possible to enhance speed and airflow. In true Pit Crew collaboration, designers and engineers mastered the art of functional beauty.

From the front splitter to the spoiler, every exterior design element serves a purpose. The available carbon fiber packages in particular improve handling and control by delivering a significant reduction in lift. In fact, these packages help make CT4-V Blackwing the highest downforce Cadillac ever—and both V-Series Blackwing vehicles the fastest Cadillacs ever, in their respective class.

---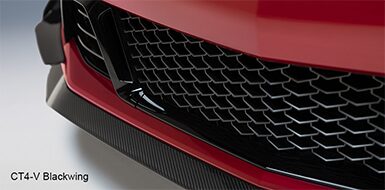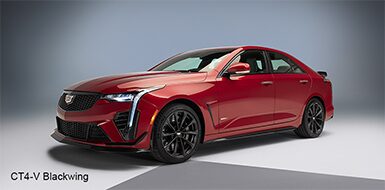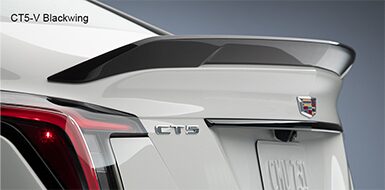 ---
Performance Variant Manager Mirza Grebovic will tell you it's about more than metrics. "We infuse the vehicles with a soul. We put feeling in it," he says. A prime example is Exhaust Character—the sound profiles for each Drive Mode that emphasize performance tuning. For example, Tour Mode is more subtle and refined while Track Mode delivers adrenaline through a substantial and visceral audible experience.

Enthusiasts can thank themselves for the engineering of Exhaust Character. As Chief Engineer Tony Roma explains, "We've gotten feedback in the past that maybe we didn't go far enough with the sound character. I don't think anyone's going to be giving us that criticism now."
---
---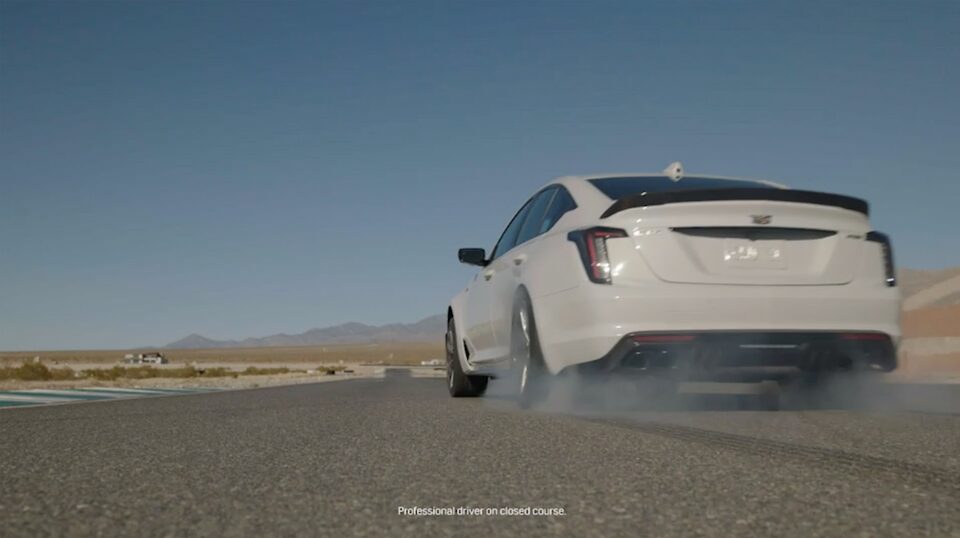 CONTROL WITHOUT COMPROMISE

---
---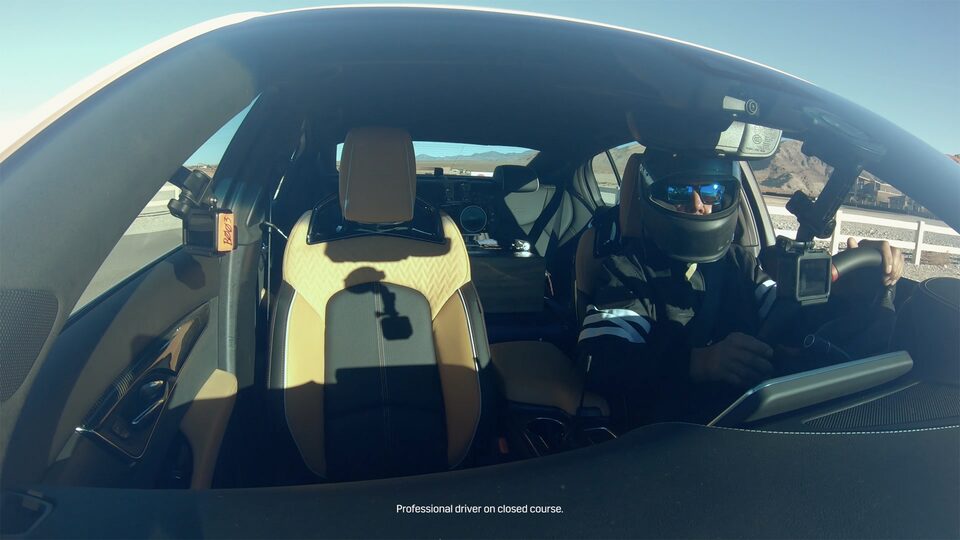 A LEGACY OF RACING—WITH YOU LAP AFTER LAP

---
---
---
---
---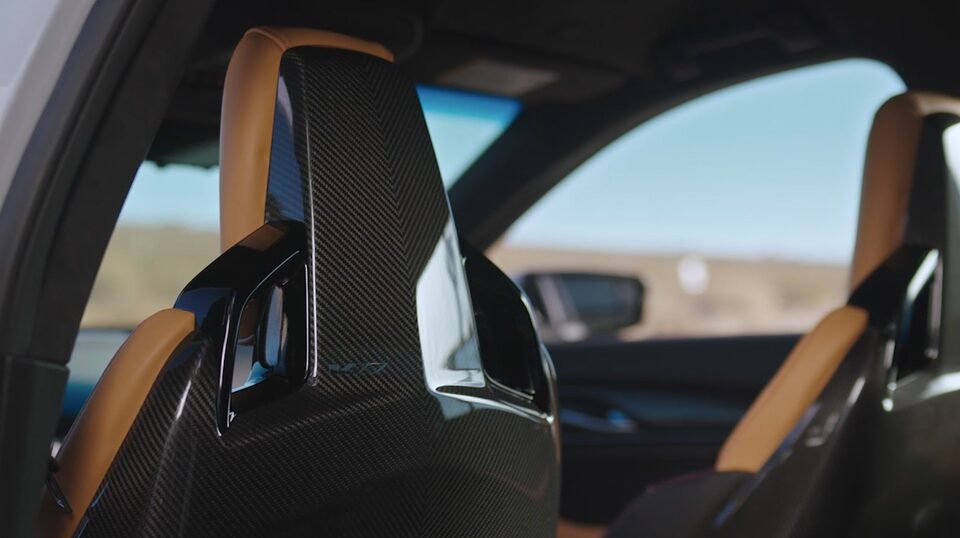 DETAIL-OBSESSED FROM SEATS TO SOUND

These aren't your typical luxury sedans, because the level of luxury within the V-Series Blackwing vehicles mirrors the level of performance. Color and Trim Manager Erin Crossley believes "the beautiful thing about this car is that there are no compromises." Every material and design detail was chosen through that lens—and the seats are a perfect example. Erin describes the buttery soft leather seating surfaces trimmed with precise stitching, piping and quilting patterns as "a work of art."

But special attention is paid to where the materials are placed, too. Adjustable headrests and bottom and side cushion bolsters, plus a combination of leather and performance textiles, keep the driver in position during a fast drive. Seat design also anticipates how the driver climbs in or out of the vehicle so that, over time, materials maintain their appearance and form.
---
---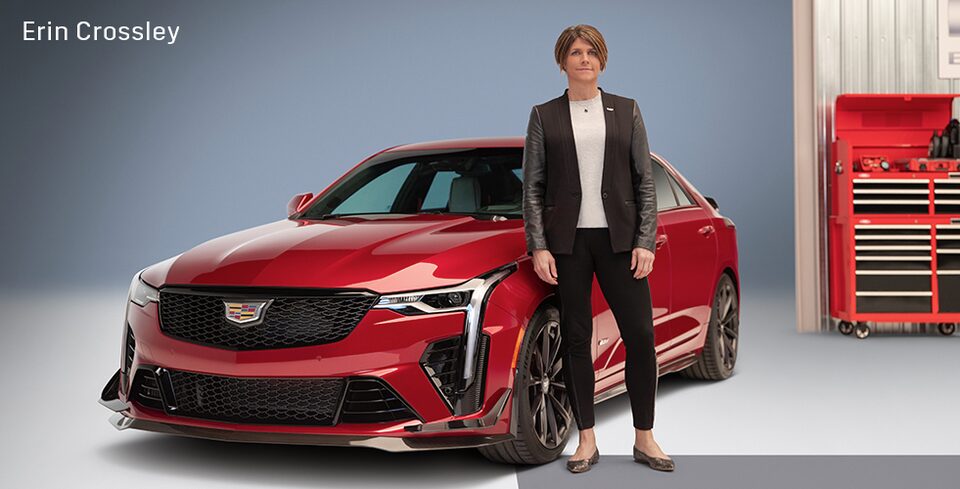 ---
The Pit Crew left no stone unturned when refining sound. Both CT4-V Blackwing and CT5-V Blackwing boast premium sound systems from audio industry titan AKG®†, who worked closely with the Pit Crew to optimize cabin acoustics. Unwanted sounds are minimized while desirable sounds are enhanced—and it's all adaptive based on whether your window is up or down.

"Believe it or not," Performance Variant Manager Mirza Grebovic adds, "some of the sound tuning is performed in full racing suits, in track modes, with the helmet on too—since that changes sound significantly." Yes, they truly thought of everything.
---
---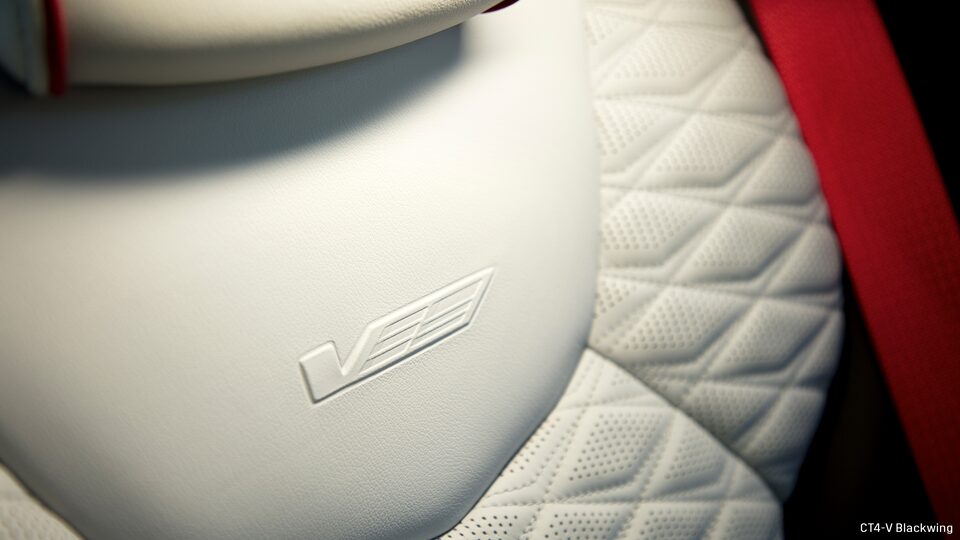 FIND THE PERFORMANCE PERSONA THAT SPEAKS TO YOU

With five interior variants on CT4-V Blackwing and six on CT5-V Blackwing, you never have to compromise. Prestige starts in the Jet Black interior with Torch Red seat belts,† performance steering wheel and bolstered seats. Opt for the available mid-level interior in Jet Black or Sky Cool Gray for high-performance seats with sueded-microfiber headliner; high-performance steering wheel; Mulan leather-trimmed armrests and door panels; and custom stitching, quilting and perforations.
Choose the uplevel interior in Jet Black, Sky Cool Gray or Natural Tan for all the above, plus Opus Semi-Aniline leather seating surfaces and leather-trimmed armrests and door panels with sueded-microfiber inserts. The highest interior on CT5-V Blackwing takes performance even further with a sculptural carbon-fiber seatback. Not to mention, you get your pick of 10 exterior paint colors for either nameplate.
---
---
Trouble deciding? The Pit Crew offers their thoughts. Color and Trim Manager Erin Crossley believes CT4-V Blackwing looks best in bright, bold Infrared Tintcoat† —a nod to its agility and athleticism. Meanwhile, she admires the CT5-V Blackwing in ceramic-inspired Rift Metallic† with the Natural Tan† interior because it speaks to the more sophisticated side of performance.

Exterior Design Manager Josh Thurber agrees lighter exterior colors "celebrate the front-end graphics and give you that bold face, so you know you're driving something special." Performance Variant Manager Mirza Grebovic feels differently, though. "I prefer my Blackwing in Black Raven only, please," he laughs—a testament to the importance of choice in a luxury vehicle. Whatever route you take, you'll be owning a piece of Cadillac history inspired by decades of racing excellence and world-renowned luxury.
---
UPGRADE TO CARBON FIBER
FOR AN UNBEATABLE EDGE
UPGRADE TO CARBON FIBER FOR AN UNBEATABLE EDGE
In V-Series Blackwing, aerodynamics do more than offer an athletic silhouette. They make a difference on the track. Both CT4-V Blackwing and CT5-V Blackwing offer two available carbon-fiber packages, which include artful exterior touches like a carbon-fiber front splitter and a rear extra aero spoiler that dramatically reduce lift and improve high-speed handling. Tight corners are yours to conquer.
---
YOU'VE UNLOCKED ALL THE CONTENT

Want to revisit your favorite videos and stories? Click the images to navigate.
---
---
The pinnacle of Cadillac performance and luxury.