---
---
---
VEHICLE CARE

You drive the exceptional. Servicing it should be no exception. That's why with many scheduled services, we provide a Multi-Point Vehicle Inspection (MPVI). It provides you with an assessment of your Cadillac by Certified Service experts, and can help you protect yourself and your automotive investment. Remember, no one knows your Cadillac and its technology better.

ROADSIDE ASSISTANCE

Travel with added confidence knowing that if you have a flat tire, run out of gas, or find yourself stranded, help is available. Whether your Cadillac vehicle is under warranty† or not, Roadside Assistance† is just a phone call or button-push away. With specially trained Advisors available 24 hours a day, 365 days a year, you can request service to help you get back on the road.


---
---
---
---
UNDER THE HOOD 
Every Multi-Point Vehicle Inspection (MPVI) includes your vehicle's remaining oil life percentage, a battery test, checking that fluid levels are at optimum levels, and a visual check of critical and support systems. Backed by GM engineers and up-to-date on the latest in the world of Cadillac, our Certified Service experts can help you to make sure everything is operating the way it was designed to.

---
---
---
---
UNDER THE HOOD 
When the "Change Engine Oil Soon" message appears, oil change service is necessary for the vehicle as soon as possible, within the next 600 miles. If driving under the best conditions, the Engine Oil Life System might not indicate the need for vehicle service for up to a year. The motor oil and filter must be changed at least once a year and the Engine Oil Life System will need to be reset. Your Cadillac dealer has Certified Service expert technicians who will perform this work and reset the system.
---
---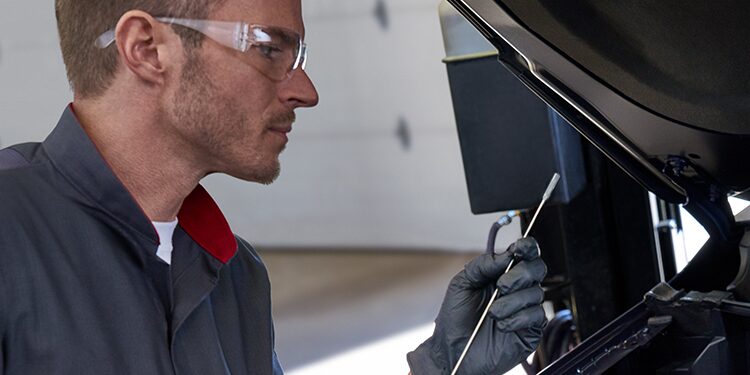 CHOOSING THE RIGHT OIL

Choosing the proper grade of oil is a critical step in engine maintenance. From conventional to full synthetic, your Cadillac Certified Service experts offer a range of oil types, including ACDelco Conventional Oil, ACDelco dexos1™ Full Synthetic, and Mobil 1™ Full Synthetic. Ask the experts which grade of oil you should use for your specific Cadillac model. You can also check your Owner's Manual for the correct grade (dexos1 oil is used with Premium Care Maintenance).

---
---
---
---
---
---
---
---
---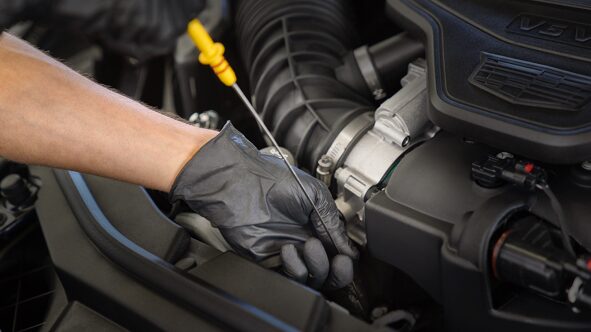 ---
YOUR FIRST OIL CHANGE IS COVERED†
Also Includes:

4-Tire Rotation
Vehicle Inspection

Free of additional costs for new owners and lessees
---
LEARN MORE
UNDER THE VEHICLE

Your tires are your only contact with the road. So with each MPVI performed, your Cadillac Certified Service experts visually inspect your tires to ensure proper alignment, balance, and road-readiness. They also inspect your brake system to help you keep them operating their best, for all those important stops ahead.

---
---
---
---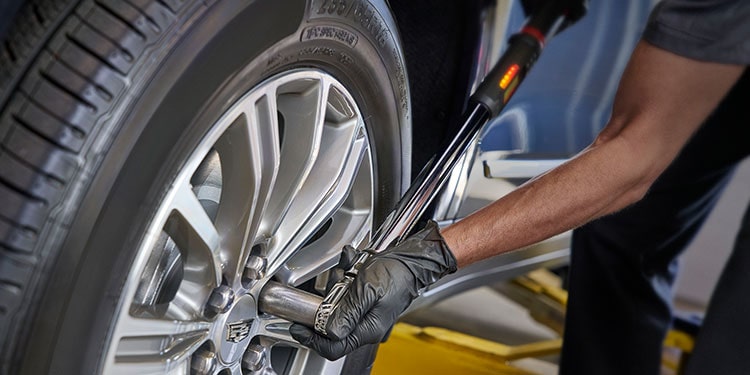 SHOULD YOU NEED NEW TIRES

You'll need new tires when the tread wear indicators—called wear bars—appear. These wear bars look like narrow strips of smooth rubber across the tread and appear when it's time to replace your tires. If you can see three or more tread wear indicators around the tire, you should replace your tires. Other ways to know when you need to replace your tires include cord or fabric showing through the rubber, cracks or cuts in the tread or sidewall deep enough to show cord or fabric, bulges or splits in the tire, and punctures or damage that cannot be repaired correctly.

The Certified Service experts at your Cadillac dealer can help you determine when your tires should be replaced and recommend replacement options.

---
FIND TIRES
---
---
---
---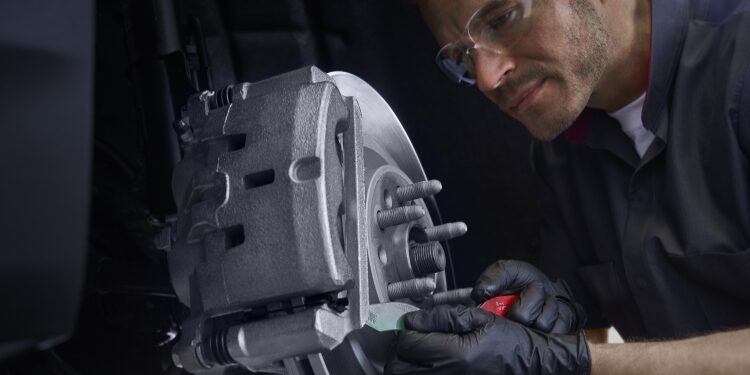 BRAKE SERVICE

Brake pads are equipped with wear indicators that produce a squealing noise when the brakes are almost worn out. The noise may be present with or without the brake pedal applied, but when noise is heard from the wear indicator, the brake pads should be replaced as soon as possible. Wear indicators are set to create noise when there is approximately 2 mm of brake pad friction material thickness remaining. In the case of assessing pad wear through inspection, pads should be replaced at or before 2 mm thickness is reached.

The Certified Service experts at your Cadillac dealer can help you determine when your brakes should be replaced and recommend replacement options.

---
SCHEDULE SERVICE
---
---
---
---
OUT FRONT

Your wiper blades are essential. The operation and condition of the front and rear wipers are checked during every Multi-Point Vehicle Inspection (MPVI) to help you make sure they will work well when you need them. A visual inspection of your windshield is performed to check for cracks or chips and may help you prevent further damage down the road.

---
---
---
---
CONNECTIVITY

The Multi-Point Vehicle Inspection (MPVI) also includes a brief assessment to determine if your OnStar system is properly connected. The OnStar system can provide diagnostic capabilities that can be extremely valuable when you're out on the road. The Certified Service experts at your Cadillac Dealer can also help you get connected if you are not currently a subscriber.

---
---
---
---
---
---
---
---
---