---
---
THE FIRST COAST-TO-COAST DRIVE WITH SUPER CRUISE™
---
WE TOOK A HANDS-FREE
DRIVE ACROSS THE COUNTRY
---
---
---
Starting on September 25th, 2017 through October 5th, 2017, 12 Super Cruise-equipped Cadillac CT6 vehicles took to the road on the first official hands-free drive across the United States. We took reporters along to chronicle the journey and experience the new Super Cruise feature for themselves.
---
Super Cruise is the first true hands-free driver assistance feature for use on limited access freeways. Precision LiDAR mapping works with in-car cameras, radar sensors, and GPS to detect the road ahead, allowing the driver to travel without touching the wheel or pedals.
---
Even while using the Super Cruise driver assistance feature, always pay attention while driving and do not use a hand-held device. Visit cadillacsupercruise.com for more information. The 2018 and 2019 Cadillac CT6 Super Cruise Package includes 3 years of OnStar to support functionality, after which OnStar plan must be purchased. OnStar plan, working electrical system, built-in Wi-Fi Hotspot set to "on," cell reception, and GPS signal required. OnStar links to emergency services. Subject to OnStar terms at https://www.onstar.com/us/en/user_terms/.
---
---
---
---
---
---
---
---
THE CITIES
---
The Super Cruise-equipped Cadillac CT6 vehicles crossed through 16 states, plus the District of Columbia, to complete the coast-to-coast trip, making stops to see sights along the way.
---
NEW YORK, NY -> WASHINGTON, D.C. -> CLEVELAND, OH
Cadillac was granted a one-time permit by the New York State Department of Motor Vehicles to demonstrate Super Cruise on a pre-defined route on New York roadways for September 25th, 2017.

STOPS THIS LEG:

---
Nemours Estate - Wilmington, DE
Curtis Creek Ship Graveyard - Baltimore, MD
Flight 93 National Memorial - Stoystown, PA
Frank Lloyd Wright's Fallingwater - Mill Run, PA
---
---
---
CLEVELAND, OH -> CHICAGO, IL -> MEMPHIS, TN

STOPS THIS LEG:

---
Tri-State Marker (Ohio/Michigan/Indiana) - East Fremont, IN
RV/MH Hall of Fame & Museum - Elkhart, IN
Graceland - Memphis, TN
Stax Museum - Memphis, TN

---
---
---
MEMPHIS, TN -> DALLAS, TX -> SANTA FE, NM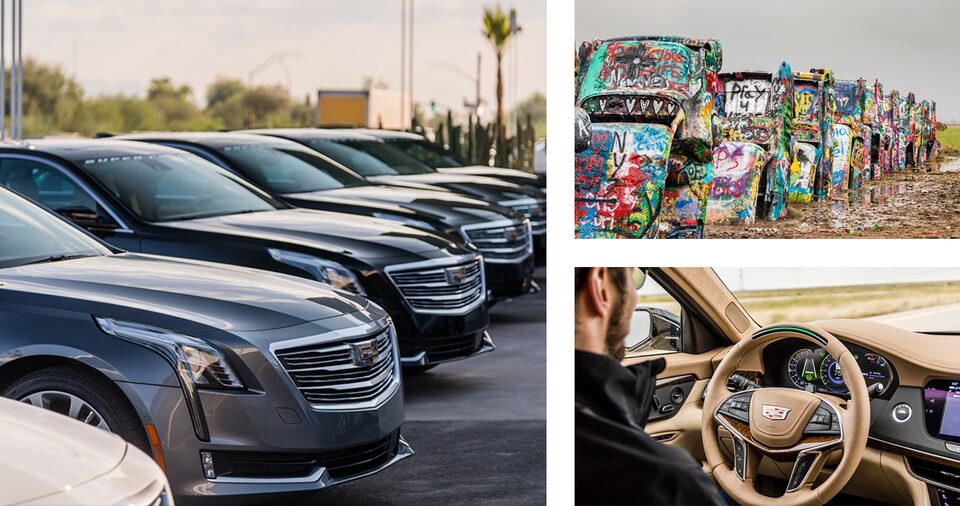 STOPS THIS LEG:

---
Clinton Birthplace Museum - Hope, AR
Four States Auto Museum - Texarkana, AR
Oklahoma City Bombing Museum - Oklahoma City, OK
Cadillac Ranch - Amarillo, TX
---
---
---
SANTA FE, NM -> PHOENIX, AZ -> LOS ANGELES, CA

STOPS THIS LEG:

---
Wigwam Village Motel No. 6 - Holbrook, AZ
Meteor Crater National Landmark - Winslow, AZ
General Patton Memorial Museum - Indio, CA
Joshua Tree National Park - Joshua Tree, CA
---
---
---
---
EXPERIENCE SUPER CRUISE FOR YOURSELF
---
The Super Cruise feature is available on 2018 (produced on September 6th, 2017, and later) and 2019 CT6 models.
---
---
---
WHAT THE MEDIA IS SAYING ABOUT SUPER CRUISE

---
---
---
---
"...It's different from - and superior to - Tesla's autopilot in several important respects…"
---
---
---
"…without a question, Cadillac's delivered on its promise of hands-free driving."

---
---
---
---
---
DESIGN THAT NEVER STANDS STILL

---
---
---
INTRODUCING

---
---
---
The CT6 with Super Cruise

---
---
LEARN MORE
---
---
---
---
SUPER CRUISE

---
---
---
The first true hands-free driver assistance feature for the freeway

---
---
EXPLORE
---
---
---