---
---
---
The Cadillac Platinum Protection Plan† helps provide additional protection on top of the manufacturer's warranty for your vehicle's engine, drive axle, and more. You expect more than the ordinary — choose the only coverage that bears the same name as your Cadillac today.

FIND MY PRICE
PURCHASE YOUR PROTECTION ONLINE†
Protecting yourself from potentially expensive covered repair costs doesn't have to be complicated. The Cadillac Protection Plan is easy to purchase online. Simply choose your contract term.

TERMS STARTING AT 24 MONTHS/24,000 MILES
•36 months/36,000 miles
•48 months/48,000 miles
•60 months/60,000 miles
LOOKING AT THE NUMBERS, REPAIR COSTS CAN ADD UP.

†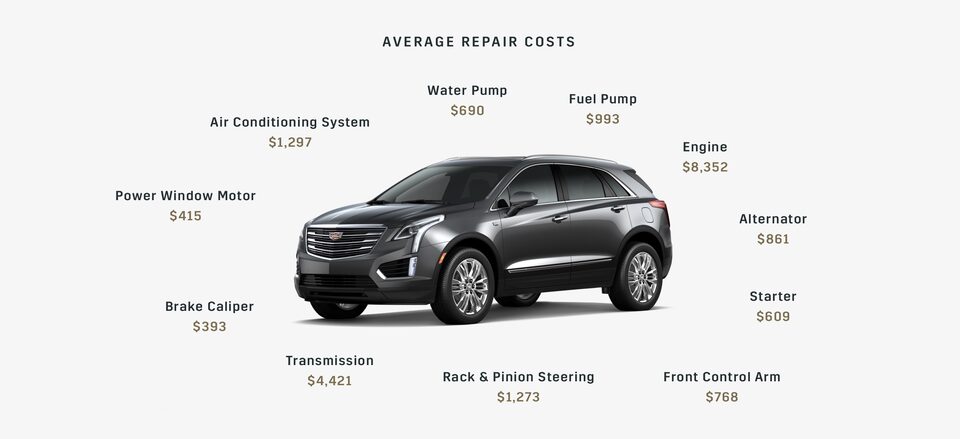 1,000+ PARTS ARE COVERED UNDER OUR PLAN, INCLUDING:
Engine
Transmission
Drive Axle
Factory-Installed Turbocharger/Supercharger
Transfer Case
Steering (including rear-wheel steering)
Electrical
Cadillac User Experience (programming and updates not included)
Airbags/Safety Restraint System
Brakes (including ABS components)
Air Conditioning System
Seals and Gaskets (of covered components)
Adaptive Cruise Control

Ride Control Suspension

Heated Seats

Blind-Spot Sensors

Video Display Screen
Reverse Warning Systems/Sensors
Factory-Installed Entertainment System
Emergency Trunk Release
Power Tailgate Lock
Automatic Climate Control Programmer
Battery and Battery Cable/Harness
Lenses, Sealed Beams, and Light Bulbs
Key Fobs and Tire Pressure Sensors
Brake Rotors and Drums
All Exhaust Components (unless listed as a specific covered part)
Trim Items
Tires and Wheels/Rims
Maintenance Services
The following emission components: EGR Purge Valve/Solenoids/Sensors, Vacuum Canister, Vapor Return Canister, Vapor Return Lines/Valves, Air Pump/Lines/Valves, Catalytic Converter/Filtering/Sensors, Emission Vapor Sensors, and Gas Cap/Filler Neck
Not a complete list of inclusions or exclusions.†
In the event of a covered breakdown, the service contract will pay for or reimburse you up to $40 per day (max. $280/visit) for receipted expenses to rent a replacement vehicle or for alternative public transportation expenses while your vehicle is being repaired.
If your Cadillac is disabled, the service contract will cover your towing or road service charges up to $150 per occurrence.
Onetime Deductible Eligibility

You can choose the deductible that is right for you. Once a part is repaired or replaced, the deductible for future repair or replacement of the same part is waived.

If you decide to sell your vehicle, your coverage can easily be transferred to the new owner upon payment of any applicable fee and completion of paperwork.

If a covered breakdown occurs more than 100 miles from your home and a repair facility needs to keep your vehicle overnight, the service contract will reimburse you up to $200 a day, for a maximum total per occurrence of $800.

If the keys for your vehicle are lost or broken, or accidentally locked in your vehicle, the service contract will reimburse you for receipted expenses, up to $35, for locksmith services.

You can choose from our lease-friendly, longer-term, and low-mileage options. If the service contract purchase date is more than 10 days after the vehicle purchase date, a mandatory waiting period applies. See dealer for details.

You may cancel your service contract at any time, including when you sell the vehicle or if loss of vehicle occurs. If you cancel your service contract within 60 days and no claims were filed, you will receive a full refund. If you cancel after 60 days or if a claim was filed, you will receive a pro rata refund less claims paid (where permissible) and any applicable cancellation fee.

---
---
---
With Pre-Paid Maintenance, you are covered for scheduled oil, filter changes, and tire rotations during the coverage period. You'll also experience the skill of Cadillac Certified Service technicians who know your vehicle best.

VIEW SAMPLE CONTRACT
PLAN DETAILS