---
---
ADVANCED LEASE PROTECTION

---
With Cadillac Advanced Lease Protection,† enjoy additional services and protection during the manufacturer's warranty, plus coverage after the manufacturer's warranty expires.

LOCATE A DEALER
VIEW SAMPLE CONTRACT
---
    Key benefits include:
Available for new leased vehicles at lease inception

No deductible required

Can be transferred

†

or canceled

†

at any time

Offered in terms of 24, 27, 36, 39, 42, or 48 months

---
GIVE YOUR LEASE THE PROTECTION IT DESERVES
Help protect yourself from breakdown and parts replacement costs even after your vehicle's manufacturer's warranty expires. Ask your Cadillac dealer about Advanced Lease Protection.
LOOKING AT THE NUMBERS, REPAIR COSTS CAN ADD UP.†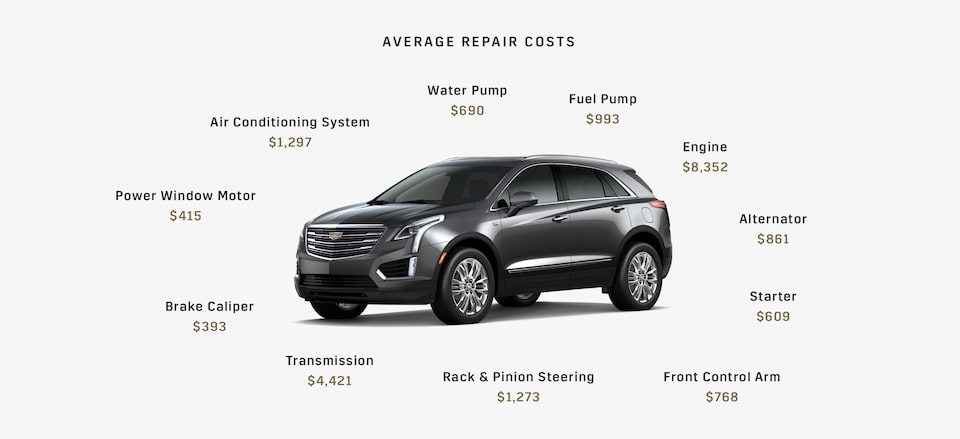 Breakdown coverage

†

Brake pad coverage

†

Battery coverage

†

Headlamp bulb coverage

†

Belts and hoses

†

Windshield wiper blade coverage

†
Electrical coverage

†



Wheel alignment coverage

†



Diagnostics coverage

†



Fluid coverage

†



Related-damage coverage

†



WHAT'S NOT COVERED/EXCLUSIONS

†



For maintenance services and parts described in your Owner's Manual as supplied by the manufacturer and other normal maintenance services and parts.
For any damage and/or breakdown resulting from collision, road hazard, fire, theft, vandalism, riot, explosion, lightning, earthquake, freezing, rust or corrosion, windstorm, hail, water or flood, acts of God, salt, environmental damage, chemicals, contamination of fluids, fuels, coolants, or lubricants.
For any breakdown caused by misuse, abuse, negligence, lack of normal maintenance required by the manufacturer's maintenance schedule for your vehicle, or improper servicing or repairs subsequent to purchase.
ADDED BENEFITS 
Rental car coverage
If you need to rent a vehicle while your Cadillac undergoes covered repairs, the service contract will pay for or reimburse you for a rental vehicle or for any public transportation expenses while your vehicle is being serviced, up to $40 per day (max. $280/visit).
Trip interruption
If a covered breakdown occurs more than 100 miles away from your home and a repair facility needs to keep it overnight, the service contract will reimburse you up to $200 a day (max. 4 days) for hotel and restaurant expenses.
Towing & road service
In the event that your Cadillac is disabled, the service contract will cover your towing or road service charges up to $150 per occurrence.
Key/key fob replacement† and lockout
If your key/key fob is lost, stolen, or damaged, the service contract will cover the replacement cost of a new key/key fob, up to $800, for any continuous 12-month period. If you accidentally lock yourself out of your vehicle, the service contract will reimburse you up to $35 for locksmith services.

YOU MAY ALSO CONSIDER:
---
PRE-PAID MAINTENANCE

---
With Pre-Paid Maintenance, you're covered for scheduled oil and filter changes and tire rotations during the coverage period. You'll also experience the skill of Cadillac Certified Service technicians who know your vehicle best.
VIEW SAMPLE CONTRACT
PLAN DETAILS
AVAILABLE PLANS